George Schroeders, a very good friend of Frank Young for a number of years says, "I did one of the first shows with him out at the Miller Outdoor Theatre called Bells Are Ringing. I'm an actor, singer and dancer. I did 10 years in New York in the 50's and ended up in Houston and I love it. He's just such a good friend. He's so sincere, so honest and I've always admired that. And I feel that he's been so inspirational. He's given so many young people, anyone opportunities."
I also came across good friends Caroline Irvine and Linda Transier.
Caroline Irvine: Well my husband Dennis Irvine was actually past president many years ago for several years in a row. We know Frank very well and he's been a big part of our lives. And we are so honored to be able to support him the way he's supported the Houston community with Theatre Under The Stars. I mean a lot of people don't realize that TUTS is probably more internationally recognized than it is nationally recognized. And my husband could make better comments on that simply because he was one of the people that helped get the ball rolling to have the Hobby Center established.
Theresa Pisula: Wow.
Caroline Irvine: My husband couldn't be here tonight but he's here in spirit. But Frank has been an asset to this community and he has really helped in so many levels. So TUTS is a wonderful program both nationally and internationally.
Linda Transier: The significance of Frank Young for me is that I'm a Houston native so I grew up going to Miller Outdoor Theatre. And I also graduated from the Music Hall where we're standing on the grounds of in high school (laughs). So I go way back. I've had many of my dance recitals here when I was growing up. And just the Miller Outdoor Theatre was one of the first touches I had as a young person with any kind of musical theatre at all. And so the fact that he was so instrumental in bringing that to Houston and giving us a chance to now which they are still offering for free. There are people who cannot come and pay for a very expensive seat at the Hobby Center. Plus we were also on one of the main fund raising groups for this building.
With the announcement of the arrival of Honorary Chairs, President and Mrs. George H. W. Bush, everyone was seated and the show started. Gala Chairs Leticia and Steve Trauber then took the stage. Steve Trauber stated that this is "The most profitable, high grossing gala TUTS has ever held. Before this evening, we knew we were going to exceed $750,000. Backstage, just now, somebody handed me a pledge for $250,000."
Onstage, Steve Trauber introduces 3 of their former chairpersons for this evening: Shirley Stein, Sandy Fitzgerald and Reed Wood. Shirley Stein takes the microphone and declares that "We are gathered here tonight to celebrate 48 wonderful years together. Wonderful and fantastic Broadway shows. The most important part was able to perform free under the stars at Miller Theatre. Frank, I remember raising the first $4,400. It was a real grass roots effort. You did it, you made it happen. We love you. God Bless you."

(L-R) Stephen and Leticia Trauber at the Forever Young Gala April 27, 2007 TUTS' Annual Gala at the Hobby Center for the Performing Arts. Photo by PWL Studio.
Emmy Award winning TV personality, Fox 26 news anchor and Houston's own Linda Lorelle takes the stage.
Linda Lorelle: "Good evening everyone, I'm so excited to be here. I have to tell you that when I heard that tonight's festivities were in honor of Frank Young. I really want to be a part of this and honor him for what he has done for the theatre community. Before my TV news career and the Emmys despite of which I've become better known for, believe it or not musical theatre was my very first passion in life. I have never felt more at home than in the Theatre and in this beautiful theatre The Hobby Center for the Performing Arts.
I was here for the very first TUTS Tommy Tune Awards what a magical night that was. And I've always admired the Humphreys School of Musical Theatre. And like all of you and Frank, I share the mission of inspiring young people. Tonight, in the little bout of our shared past but mainly about what is yet to come with all of your gracious support. Tonight, TUTS will be Forever Young."
Onstage, preceded by a drum roll from the orchestra, Theatre Under The Stars artists perform songs entitled "MAY YOU STAY FOREVER YOUNG." After which we were presented with a slide show with baby pictures of Frank Young and as a child growing up in Pasadena, TX. Also on the big screen film clips are played with Frank Young narrating.
Frank Young: I was 6 years old. It was Annie Get your Gun. My grand parents had a big old Cadillac 1946. We drove to see Mary Martin in Annie Get Your Gun. (When I heard the gunshot onstage) I began to scream at the top of my lungs. Four ushers personally had to drag me out of the theatre.
I was about 10 with the Merry Go Round School at the old Alley Theatre. I would sit and I would take Acting Classes. The Music Hall was the home of the Symphony and the Opera when I grew up here. And I sang in the Opera of course and danced to the Opera in the old Music Hall. And it served as my training ground for everything that became Theatre Under The Stars. It took the old anthill and made up the magnificent theatre.
And I said, "Let's do a summer opera out there, a free summer opera." And they said, "My lord we lose enough money here in the main season. You do the opera." And that's exactly what I did.
And lo and behold we had to cancel our opening night of the first production of Theatre Under The Stars. It was a disaster. The next day, however, we made Houston history. We've worked with the most wonderful people the first time and folks that are still active with us went out and raised you know $50 to a $100.
And they said "This is so wonderful and it's free."
South Pacific really made us famous (accompanied by the song Some Enchanted Evening). We put a full size swimming pool onstage and then we built an 18-foot high lava mountain drop fed by a waterfall into the swimming pool. We had 85 divers, it was spectacular. After the second night you couldn't get to the park. When we got to 25,000 people the police just shut the park at 6:30 and made people come back the next night. That's the show that put us on the map.

(L-R) Margaret Williams, Paul Hobby and Janet Hobby at the Forever Young Gala April 27, 2007 TUTS' Annual Gala at the Hobby Center for the Performing Arts. Photo by Pete Baatz.
After the film clip, Carey Woliver takes the stage…
Carey Woliver of the TUTS Advisory Board: "Many Houstonians first came to know Theatre Under The Stars and Frank Young when they went to the park for the wonderful shows. And that tradition survives today and with TUTS being the only Arts organization in this town with an unbroken record of yearly summer shows free to the public.
I was not there for the first show I was far too young for that. But, the second year, I was thrilled when I was cast as Polly Brown in The Boyfriend which was TUTS' second show ever. Well, I've been a Frank Young groupie ever since.
Besides the landmark South Pacific spectacular, over 90,000 theatre goers were thrilled for a week of Grease in 1999. And the first TUTS produced national tour."
After Ms. Woliver, Theatre Under The Stars performs a scene from the musical GREASE. Also performing is Austin Miller, a finalist of the TV Reality Show "You're The One That I Want."
Austin Miller: "If that song I just sang didn't clue you in, I'm Austin Miller. (Audience applauds). For the last several months I've been playing the role of Danny in Grease in the Summer Revival. But you know, when I found out that they were having this gala for Frank, I told Kathy and Marshall "Honey, I gotta be in Houston." So here I am. But before that, I was in Hairspray and before that I was one of those little Humphrey school kids very much like the ones that sang to you earlier.
Now, as a boy growing up in Alvin, I had no idea that this magical, theatrical place existed. And I used to walk into that old studio in San Felipe and it would take my breath away. The hope, the creativity and the crackle in the air it was like nothing that I've ever known before. I was there as a singer, as an actor and as a dancer. Now some of you may not know that Frank actually started out a lot like me. He left Texas for a while and tried Hollywood dreaming of becoming a star."
Austin Miller: (pictured on the big screen is an old '50s or '60s black and white picture of Frank Young as a young actor with a young blonde actress). "Wooow! Now if that's not Danny and Sandy, I don't know what is. I'm lucky I didn't have to compete with that. Anyway, luckily for all of us, after college at UCLA, the Houston Grand Opera called Frank back home. But he hadn't quite gotten off stage yet."
Frank Young: I was in Camelot as an extra and I wanted to play the Robert Goulet role. If I were a girl, I would want to play Peter Pan because that's who I am. I have fantasized about the Cathy Rigby role. Phone calls I get from major producers in England and around the world, I continue to be amazed because I'm still 12-years old inside. People say, "How long are you going to do this?" And I say, "When it stops being fun."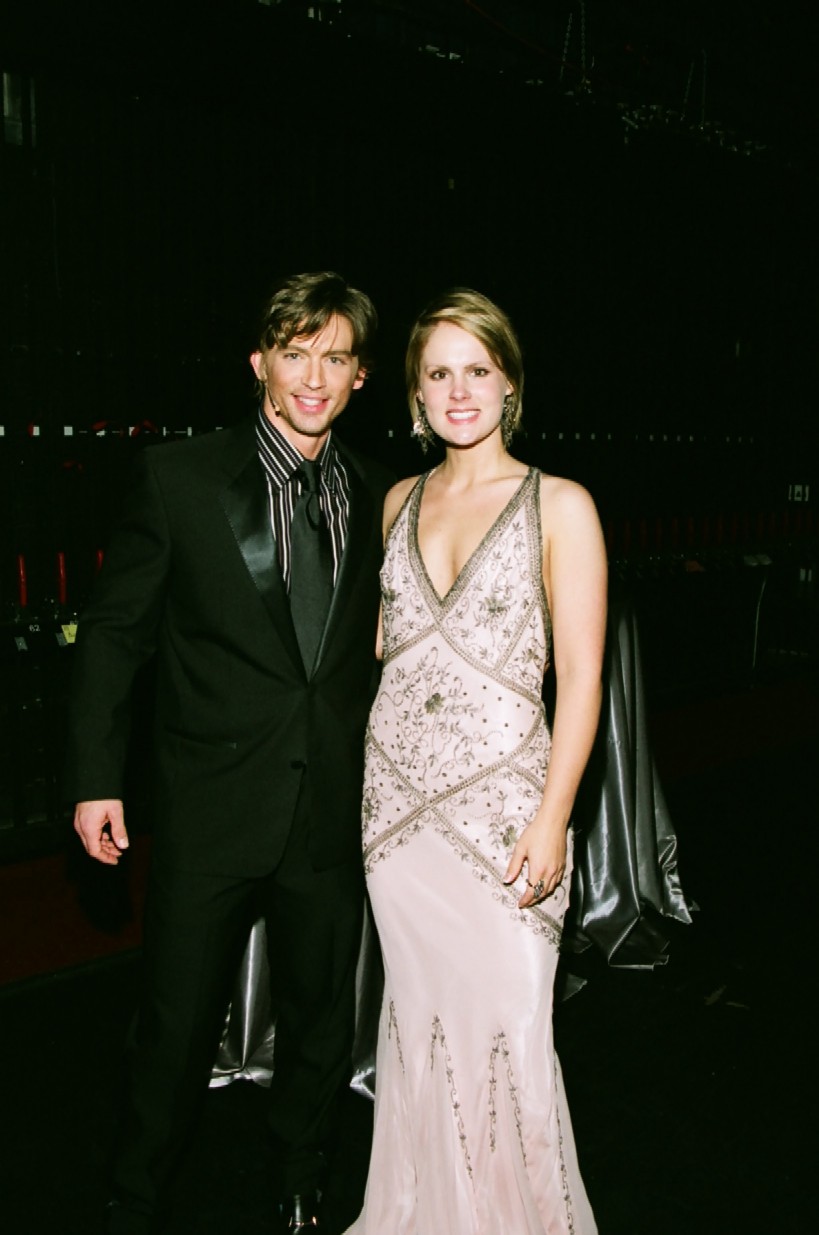 (L-R) Austin and Katherine Miller at the Forever Young Gala April 27, 2007 TUTS' Annual Gala at the Hobby Center for the Performing Arts. Photo by Pete Baatz.
Frank Young: Patrick Swayze began his career here, not that we take credit for all of that. Chandra Wilson who is in Grey's Anatomy who has a huge career, she was in our school starting at age 5. John Norris who is on MTV, a lot of famous people have come through these doors. Obviously, the Tommy Tunes Awards was founded here. Jennifer Holliday played a part on the Tommy Tune Awards. Rob Marshall, for example, he directed the movie Chicago which just won the Academy Award for the best movie category of that year. He was here and worked with us and he was very gracious. In fact he said onstage that night that he wanted to thank Theatre Under The Stars for giving him his first chance to direct a musical.
Susan Stroman who is probably the hottest director and choreographer on Broadway, she did Producers, which has won more Tonys than any musical in history. She did a lot of that recent Music Man revival. She started here, she was my assistant. Even shows in the park together, she was the choreographer.
Linda Lorelle: TUTS has always called upon the presidents to chair the Hobby Center's Opening or Broadway producers to schedule a performer for a special project. One legendary performer TUTS often calls on still returns those calls. Whether it's for the lead in "On A Clear Day" or to be promoted from Sir Lancelot to King Arthur in Camelot or to headline the National Tour of Man of La Mancha. Ladies and gentlemen, the Tony, Grammy and Emmy winning star of Broadway, Vegas, movie, television and those totally buff Superbowl commercials, the incredible Robert Goulet.

(L-R) Robert Goulet and Ginni Mithoff at the Forever Young Gala April 27, 2007 TUTS' Annual Gala at the Hobby Center for the Performing Arts. Photo by PWL Studio.
Robert Goulet: I'm so pleased to be here tonight to be able to honor my friend Frank Young (audience applauds). We have worked together 4 times in the past. The first one was "On A Clear Day", the second one was Camelot, then I did Man of La Mancha and then again Camelot. And I said to Frank, "Wow Camelot again?" "Yeah, are you gonna do it?" We go to TUTS (draws laughter from the audience).
I had no idea that Frank has been helping all these kids all this time. They showed me all the material yesterday. Jeepers creepers, Frank, you have been working hard and diligently and you deserve all the accolades that come your way. You deserve it! God loves you and everyone in this theater loves you as well. (Audience applauds).
You know we all have dreams in our lives and some of them don't come true. But for you, Frank, a lot of them have. And now I would like to dedicate this song to you,
THE IMPOSSIBLE DREAM
To dream the impossible dream
To fight the unbeatable foe
To bear with unbearable sorrow
To run where the brave dare not go
To right the unrightable wrong
To love pure and chaste from afar
To try when your arms are too weary
To reach the unreachable star
This is my quest
To follow that star
No matter how hopeless
No matter how far
To fight for the right
Without question or pause
To be willing to march into Hell
For a heavenly cause
And I know if I'll only be true
To this glorious quest
That my heart will lie peaceful and calm
When I'm laid to my rest
And the world will be better for this
That one man, scorned and covered with scars
Still strove with his last ounce of courage
To reach the unreachable star
Aaahhhhhhh…..For me to be serenaded by Robert Goulet was a pleasant surprise for this glorious night. I would like to personally thank Meridyth Garcia and Theatre Under The Stars for inviting me to be part of this amazing event. And the magical evening went on with performances from TUTS singers and dancers and from the beautiful, multi-talented and incredibly funny Debbie Reynolds. The most fitting rendition of "There's No Business Like Show Business" from all the artists onstage was the icing on the cake.
Towards the end of the show, Frank Young was presented The American Musical Theatre Award (AMTA) by former President George H.W. Bush as his wife Barbara Bush read a letter from the current President George W. and Laura Bush. Created by TUTS in 2002 the American Musical Theatre Award honors distinguished individuals who have contributed significantly to the American musical theatre. The former President quoted the New York Times as he referred to Frank Young as the David Merrick of the provinces. "And I'm not gonna tell you what I think about the New York Times for referring to Houston as one of the provinces" said the former president which drew a big laugh from the crowd.
And last but not least, Frank Young gave the most touching and humorous speech after he graciously accepted the award from the President and First Lady. He said, "You know it's something when you accept an award from the President and First Lady of the United States." Because of Frank Young who knew how to dream the impossible dream and to Theatre Under The Stars for making the impossible dream happen, Houston, Texas will always stay Forever Young. And from the words of Texas native Debbie Reynolds, The Unsinkable Molly Brown, "You Lucky, Lucky Houston." Lucky Houston, indeed.

Debbie Reynolds at the Forever Young Gala April 27, 2007 TUTS' Annual Gala at the Hobby Center for the Performing Arts. Photo by PWL Studio.
-0-0-0-0-0-