THEATRE UNDER THE STARS
www.TUTS.com
Founded by Frank M. Young 1968
John C. Breckenridge, President and CEO

LIVING LEGEND
INTERVIEW WITH FRANK YOUNG
PRODUCING ARTISTIC DIRECTOR OF
THEATRE UNDER THE STARS


(L-R) Frank M. Young, Barbara Bush and President George H. W. Bush at the Forever Young Gala April 27, 2007 TUTS' Annual Gala at the Hobby Center for the Performing Arts. Photo by PWL Studio.
Interview with Living Legend FRANK YOUNG
Founder and Producing Artistic Director of THEATRE UNDER THE STARS

By Theresa Pisula
March 5th, 2008
Houston, Texas
theresa@houstontheatre.com
What can we say about Frank Young? Well, a lot apparently, check out what I have written about him in the last ten years:
INTERVIEW WITH FRANK YOUNG
FOUNDER OF TUTS, August 19, 1998
THEATRE UNDER THE STARS
FOREVER YOUNG GALA
April 27, 2007

The above links do not include his vast accomplishments as founder of Theatre Under The Stars. So I thought that this year, I will drop by his TUTS office for a chat with him to see his take on things as they are now. And re-visit with him on his point of view after what has transpired in the last ten years. In the beginning of the interview I mentioned to him all the opportunities I have had to see superstars like Gavin McLeod (Captain of the Love Boat), Tony Randall, Debbie Reynolds and Gladys Knight perform onstage through all the fabulous TUTS musicals over the years. At this time, Leslie Uggams is performing the musical Hello Dolly on the TUTS stage.
Frank Young: I can open the door to any of those people that I know and especially ones that have worked for us.
Theresa: (Laughs).
Frank: And this is our third show with Leslie Uggams. Tomorrow we have a children's show at ten in the morning, we have another Hello Dolly show tomorrow night and then 2 on Saturday, 2 on Sunday and then she's flying out Monday morning.

Gavin MacLeod celebrates his 60th year in Show Business as The Honore Lachailles in GIGI. TUTS production January 1998
Theresa: I'm amazed at how you keep up with all this. In the evening of April 27th, 2007 when you received the American Musical Theatre Award from the former President George Bush and his wife former first lady Barbara Bush, the night that Robert Goulet performed for you, did you know at that time that you were watching one of Robert Goulet's final performances?
Frank: No, absolutely heartbreaking. I thought he sang really well. He's been with us I think three times previously. With Camelot, he's done with us and then we sent him to other cities. We also did The Man of La Mancha where we actually mounted a national tour. It broke records at Kennedy Center – it was amazing. So I have known him for many, many years. I was very touched because they kept it a secret. (TUTS) went to people like Robert Goulet and Debbie Reynolds because we did the national tour of The Unsinkable Molly Brown which she was nominated for an Academy Award in the movie. And she came to the gala so, it was very touching. And then to open the newspaper and see that he had passed away because he's just a legend. You know? And in the theatre world, everybody's on their e-mails and calling, there were no secrets then.
Theresa: It was horrible. When I found out, I was really devastated.
Frank: You need to value every moment that we're here. Every show could be your last.
Theresa: I had no idea that he was…
Frank: I didn't even know he was even ill. I don't think that anybody knew he had a problem. He limped a little bit I noticed when he was here that night. But his wife was here they just could not have been more rambunctious. We talked. That's almost a year ago when we did it April of last year. In this business, it's like any other business we have our ups and downs. But they knew they all had to say nice things that night.
Theresa: (Laughs). Robert Goulet sang the song from The Man of La Mancha, the Impossible Dream.
Frank: And you know what's interesting is…when we sat down for dinner…he said "You know Frank that song really is about you because you're an impossible dream."
Theresa: It was such a pleasant surprise because I didn't know he was going to be here that night. I knew Debbie Reynolds was going to be there but I didn't find out about Mr. Goulet until I was talking to one of the guests that evening…
Frank: She was ill that night actually. She said, "You know I really shouldn't be doing this. But because it's you, I hope I don't embarrass you and myself." And I said, "Oh, don't be silly, get up there." She had a bug or something. I just read in one of those things, her age she's hitting 80. She's still out there doing her act. She's opening in Galveston on Sunday, I think.
Theresa: She is so funny.
Frank: She still does her Vegas act. I saw it not too long ago in another city. And she's just amazing.

Debbie Reynolds at the Forever Young Gala April 27, 2007 TUTS' Annual Gala at the Hobby Center for the Performing Arts. Photo by PWL Studio.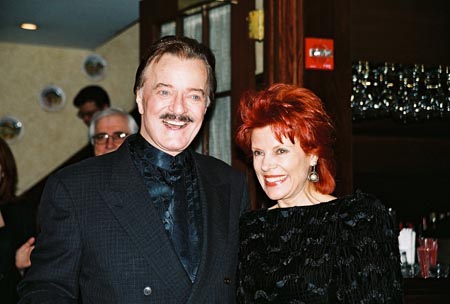 Robert Goulet and wife Vera. Photo courtesy of www.BroadwayWorld.com
Theresa: How did you hear of Robert Goulet's passing?
Frank: I started getting calls from people in Las Vegas because he had a list. His wife, I don't know if you met her when she was here Vera gave a list of people that they immediately needed to contact. We knew he was sick, we knew he was at Cedars Sinai Hospital and oddly enough we kind of sensed it when we called and they said he's not here. But he was supposed to recover and just didn't.
Theresa: Do you think we'll ever have another Camelot?
Frank: Another production of that somewhere? I think it's in the league of those great classics that keep getting re-done. The Man of La Mancha is one of those. Clearly, Julie Andrews, that wonderful magic of that original cast. My Fair Lady is in that league, the Hello Dollies. I would say there are ten to fifteen great classic musicals that will live forever. Unlike some of those early ones in the early days of Broadway Musicals that sort of come and go, those Lerner & Lowe shows, those Rodgers & Hammerstein shows. Jerry Herman who was just here, I asked him just out of curiosity, "How many productions a year (of a musical like Hello Dolly) are there?" And he said there is a production opening every night 365 days a year and sometimes multiples all over the world.
Theresa: Wow.
Frank: Sometimes its high school, sometimes its community theatres, Broadway revivals, somewhere in the world, every day a new one is opening and having a run. Jerry Herman wrote the music and the lyrics for Hello Dolly and Mame, La Cage Aux Folles and a dozen other Broadway hits.
Theresa: He's a good friend of yours?
Frank: He has been a good friend because we sent out the National Tour in 1990 of Mame with Juliet Prowse. And he helped us put that together. We've stayed in touch. And when he found out we were going to do Hello Dolly, he called us and said "Frank, have you cast the role?" And I said, "No." And he said, "You have got to consider Leslie Uggams. Do you know her work?" And I said, "Yes, she's been here already, twice! She's a dear friend." He said that they were onstage together in a musical called Jerry's Girls. It was a musical about his leading ladies. He's a great pianist. He was in the show, onstage, on Broadway and Leslie Uggams was in it. So he said, "I have to come down and help you put together my show." And I said, "We usually don't want to have you guys here because you keep fixing things."
Theresa: (Laughs)
Frank: And he laughed, "I'm coming. Just get ready." He was really gracious.
Theresa: He was here in Houston?
Frank: He was here for a week, a whole week before we opened. And he's been getting the reviews. We got a rave in the Chronicle. He immediately said, "Maybe I need to come back and see the closing."
Theresa: I can't wait to see the show. Where does he live?
Frank: He lives in Beverly Hills and he has a home in Palm Springs. So he goes back and forth.

JERRY HERMAN. Photo courtesy of www.DenverLibrary.org
Theresa: How does it feel like to accept an award from the President?
Frank: Well, there's nothing like that. I mean, it is… you just…you see all these award shows and things and you keep thinking how wonderful that person must be. I barely remember doing it, it was so exciting. And (whispers) to have the President of the United States do that!
Theresa: (Laughs).
Frank: I'm just speechless thinking about that. I literally had no idea what I said. I just remember telling the people, "Sit down. Sit Down. Stop applauding."
Theresa: (Laughs) and with Robert Goulet, Debbie Reynolds, the former President, First Lady and all these people onstage…
Frank: And at the end of the show which was a magnificent combination of songs from different shows that we had done, everybody onstage had a mask of me so it was fifty frank youngs I was watching doing this (laughs). It was really just an amazing, amazing event. And it was the largest financial success of any gala in our forty year history.
Theresa: Did it feel like it was a culmination of your whole life's work?
Frank: It did. I felt like I was seeing all the days of my life flashing before my eyes. And then Ron Stone did that biography video of my life, a montage of me growing up. Then there's a child naked (on the big screen), a picture of me when I was 3 years old growing up in Pasadena.
Theresa: Oh, you didn't know all this?
Frank: I didn't know this was coming. They went to my family and they gave them the pictures, "Well, here's something when he was in a High School band orchestra. Here's something when he was a dancer in the old Music Hall in the forties that my family brought me to Houston for dance classes." And I went to the Alley's Merry Go Round School in the forties when they were over on Berry Street before you were even born. They had a children's school and we drove in from Pasadena.
Theresa: (Laughs). So your life flashed before your eyes that night.
Frank: Absolutely and many days afterwards as well.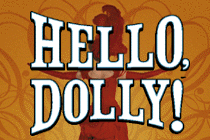 LEE ROY REAMS, Director of TUTS 2008 production of HELLO DOLLY! Starring Leslie Uggams. Photo courtesy of www.ccm.uc.edu
Theresa: As of this interview Leslie Uggams is playing Hello Dolly on the TUTS stage. I can only imagine but how were you able to get her to play Dolly Gallagher Levi on Hello Dolly?
Frank: Well, we just asked her and met her fee (laughs). So that's the way that works.
Theresa: It's that easy?
Frank: (Laughs). No it's not quite that easy. Jerry Herman had called her and said this is the show. We didn't know if she was able to do it for the time period because she's booked up so far. And she's got a new Broadway show in the works which I can't talk about. And the fact that she was in Roots and that she's a Tony winner and an Emmy winner. She's just a phenomenon. And so I just called her and said, "Here are the dates." And she said that Jerry had called. And she said, "Ooww, I've got all these concert dates. But let's see what I can do." So then she rescheduled all of those concert dates.
Theresa: She does concerts still?!
Frank: Oh still, absolutely. She does symphony orchestras. So what she had to do during rehearsals, she had these 3 days that she couldn't reschedule because the buildings weren't available but she wanted to really do this role. And as everybody has said, this role was made for her.
Theresa: She's amazing.
Frank: She is amazing. And we brought back the people in most of the leading roles who have done them before. The director is Lee Roy Reams who staged the last Broadway revival based on Gower Champion's original staging. So basically, Jerry Herman helped me get these people so we had the best of the best who knows this show backwards and forwards. We got a lot of Houston kids in there as part of our education and outreach program. I think we have 8 students from Sam Houston State University who go to classes all day and then come in here for afternoon and evening rehearsals and then go back to Huntsville. So it's really given them a new spark.

Theatre Under The Stars proudly presents the grand dame musical, HELLO DOLLY! starring LESLIE UGGAMS, February 26 - March 9, 2008 at the Hobby Center for the Performing Arts (800 Bagby at Walker, Houston, Texas). Tickets may be purchased by calling 713-558-TUTS or online at www.TUTS.com.
Theresa: The original Broadway production of Hello Dolly was directed and choreographed by Gower Champion and it opened on January 16, 1964 at the St. James Theatre where it ran for 2,844 performances. The stellar cast included Carol Channing, David Burns, Charles Nelson Reilly, Eileen Brennan and Alice Playten. The next TUTS musical coming up at the end of this month of March is the 25th Annual Putnam County Spelling Bee.
Frank: Yes! And it's absolutely spectacular. It's just outrageous and it's been running in New York. I think it won the most Tony Awards of that season about 2 or 3 years ago.
Theresa: How does a musical like this one get chosen as part of the TUTS season?
Frank: Well, we try to balance. We try to do some things that are comedies, some serious musicals. At Christmas, we always have a big family spectacular, something that's gonna be, like the year before was the Radio City Music Hall
Theresa: Last year's Christmas spectacular was A Wonderful Life and it really is spectacular. I didn't think they were going to be able to recreate the magic from the movie but it was so much better because there's beautiful music and everyone is singing. A Wonderful Life is a wonderful musical.
Frank: Well, Theatre Under The Stars because we're so big, we're a regional theatre and everything we do is geared to Houston and serving this community. But luckily some of it is so wonderful it goes to Broadway and all over the world. So, people watch what we do. Well the man who wrote that called, Sheldon Harnick and he also happened to write Fiddler on the Roof and many other great Broadway hits and he said, "Frank I'm so excited I'm gonna come see this." Well your heart stops when you here this.
Theresa: So he wrote the music?
Frank: He wrote the musical score. So he's gonna come, what are you gonna do? We did different things we put all those visuals, all the projection works that were animated. We were thinking that he could hate this. We went out to dinner for four and then we had drinks at intermission and he said, "Frank, this is the best version of this show I've ever seen."
Theresa: It was absolutely wonderful. The bridge that George Bailey was going to jump off of was magnificently huge and the stage looked very dramatic in the dark of the night as these lights surrounded this enormous bridge. You could see the lake underneath it and he was contemplating suicide as it snowed onstage.
Frank: It's a special show. It is not what I would put in the class as a great musical. But it broke our box office records for a Christmas show.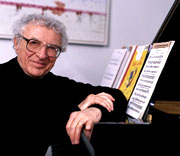 SHELDON HARNICK. Photo courtesy of www.northwestern.edu
Theresa: Let's talk about the 2008-2009 Season that's coming up. You have Oprah Winfrey's The Color Purple.
Frank: Oh, and I cannot tell you. This is the first national tour. And you know what it is - Oprah was in the TV version. And I'm not sure I've seen the show 2-3 times…
Theresa: Steven Spielberg directed the movie.
Frank: That's right. And Whoopie Goldberg was the star. And Oprah just wanted to be a part of this. She's the one that produced the Broadway show. And she's still the producer.
Theresa: Did you have to call Oprah (laughs)?
Frank: No, no, no, I haven't had the pleasure. But the people who got the rights to this – because it started out in a couple of other regional theatres and they weren't sure if it was good enough, but the definitive version was done by the Alliance Theatre in Atlanta. And from there it was totally redone and gone on to Broadway. So we have the first national tour, it's just selling out everywhere. We don't know who will be in our cast because it's not coming until September.
Theresa: Is it on tour now?
Frank: Yes. And now that the Broadway company has closed a lot of those people are gonna be going into the road company. So we'll probably know about 3 months out.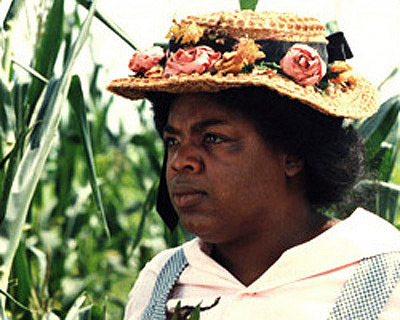 OPRAH WINFREY as Sofia in the movie THE COLOR PURPLE directed by Steven Spielberg. Photo courtesy of www.Achievement.org
Theresa: Legally Blonde the Musical
Frank: That's obviously based on the wonderful movie. It's currently on Broadway right now. And they just aired it on television.
Theresa: Yeah, I saw it on TV.
Frank: First time that I can ever remember a live Broadway show ran the risk of putting it on television for free while it's still running on Broadway. But you know what it did? It created a new model because the ticket sales on Broadway went up.
Theresa: I think anything you put on TV will give it new exposure. It piques people's interest.
Frank: They'll want to see it live! Especially if it's all about this girl who's in high school and going on to an Ivy League college. There are a lot of tweens in the New York demographic a lot of girls are going.
Theresa: Happy Days – A New Musical
Frank: The Fonz and all the gang from the television series. This is a new musical that is being written and we have seen done at Papermill Playhouse. All the big people at TUTS went and it's absolutely terrific. Believe it or not, I never saw the television show ever. But all of them Richie, the Fonz, Potsie, Ralph, they're all there and it's hysterical. It's kinda like Bye Bye Birdie if you remember that old musical because it's all these high school kids. It's wonderful, it's gonna be a riotous scene.
Theresa: And it's gonna have '50s and '60s music?
Frank: It's in that style. It's not in any real music that were pop songs. It's a whole new score.
Theresa: Wow, that's cool.
Frank: And it's produced by the same people who produced the television show all of those years ago, the same writers the same everything so…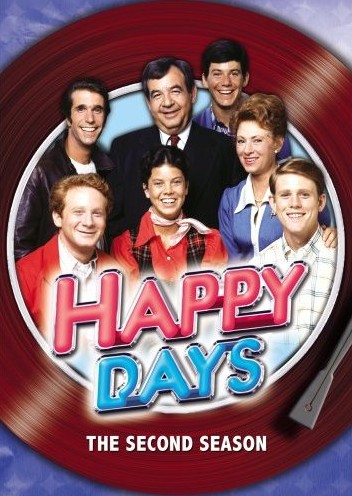 Photo courtesy of www.andyfilm.com
Theresa: Good! Cabaret…
Frank: Well Cabaret is one of those great all-time Kander & Ebb shows and years ago we did it in about 1975, there was a hotel here called the Shamrock out on Main and it had a cabaret and we did the show Cabaret where you could have drinks and a very lavish thing…but we've never done anything in a big legitimate theatre. So this will be a first time to produce this Tony winning, Academy Award winning show.
Theresa: Liza Minnelli starred in the movie.
Frank: She comes to Houston for events and don't think I'm not gonna invite her when the show comes (laughs).

Photo courtesy of www.jblog.com
Theresa: What were the factors that influenced you to choose the musicals for the new season?
Frank: Well again, it's a balance thing. We want some big Broadway hits. We knew The Color Purple and having Oprah Winfrey's name on it would be a big thing. It's an outreach to the African-American community. We've done the Asian shows recently. So we like to serve our constituency here. And it's just a great musical. Irving Berlin's White Christmas is a Houston premiere. It was just recently adapted for the stage. And who doesn't know all those Irving Berlin songs? It's full of tap dancing, it is stunning. It's gonna snow starting from the back of the balcony it's an effect that we've seen demonstrated. It's gonna snow all the way across the balcony over the mezzanine over the entire orchestra and it'll continue to snow until it reaches the stage. And then the stage is gonna have an avalanche. It's an amazing phenomenon.
Theresa: Now they haven't done White Christmas on Broadway?
Frank: Nope. And it's not intended to play on Broadway. This is our own production. They mounted the production three years ago when I went to see it at the WANG Center in Boston. It sold out six weeks in a 4,000 seat theatre at every performance and they brought it back every Christmas. But here's the long answer to your short question:

KEVIN McCOLLUM. Photo courtesy of www.TheaterMania.com
Broadway producer Kevin McCollum (RENT, AVENUE Q and IN THE HEIGHTS) had the idea to make a musical of WHITE CHRISTMAS that would become an annual holiday event to play different cities around the country and compete with productions of A CHRISTMAS CAROL.
Four years ago he commissioned and mounted a single company that played in San Francisco at the Curran Theatre for multiple, sell out weeks. Then the following Christmas he decided to return the San Francisco Company back to the Curran Theatre, and he added two new productions – one at the Pantages Theater in Los Angeles and one at the Wang Center in Boston. All three companies rehearsed simultaneously in the same studios in New York City, with the one director and one choreographer shuffling between rehearsal rooms. That had to be a first!
But trouble was on the horizon, as the San Francisco (city one) did not do so well the second year in a row. Los Angeles (city two) did not do well either, even though it was the first year there. But Boston (city three) was a huge success, selling out the cavernous Wang Center Theater.
Mr. McCollum decided his original concept of WHITE CHRISTMAS companies all over the country in December might not be so great after all. So, after year two he sold one of the three complete productions to a group of non-profit musical theaters: TUTS in Houston, 5th Avenue Musical Theatre in Seattle and the Denver Center.
He had his second company begin alternating years between The Wang Center in Boston and The Ordway Center in St. Paul. I don't know what happened to the third company. So in year three, WHITE CHRISTMAS played The Ordway and Seattle (one of our consortium). In year four it played the Wang Center a second time and Denver Center (one of our consortium). In year five it will return to the Ordway and TUTS will mount its first production.
Our three theatre consortium owns one complete production which we share each December. Whether TUTS will do it every three years or not remains to be seen. But this is our own show, fully produced and rehearsed and presented here. It will be our cast and our director and choreographer. The only things that are the same in our three cities are the sets, costumes and other physical elements – snow machines, etc. – that we jointly own. It is a nice experiment. And it proves financially advantageous for three non-profit theatres to join forces in a multi-million dollar production.
Theresa: Wow.
Frank: And then we have another family show Meet Me in St. Louis. We've never done this and this is a great family show. In fact we thought about it for our Christmas show because it has some Christmas themes in it and it takes place at Christmas. Have Yourself a Merry Little Christmas, the Judy Garland song and Klang Klang with the Trolley Song. It's never been done here. And it's a very extravagant production, the sets and costumes are terrific.
Theresa: That's wonderful.
Frank: Those are all kind of mindless entertainment, the ones we've talked about so far with the exception of The Color Purple. And Cabaret has a very dark kind of tone to it. The rest of them have a lot of tap dancing and silliness and fun for family audiences, very clean and wholesome season.
Theresa: I love musicals. And I know that you love them so…
Frank: You know there are only 2 forms indigenous to America, everything else came from Europe: American Jazz and the American Musical. Everything else, Shakespeare, spoken theatre, symphony, opera and the ballet are from Europe. Forget about all those foreign art forms. The American Jazz and the American Musical are indigenous to America. I'm passionate about those two.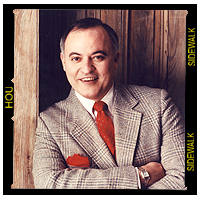 Frank M. Young
Theresa: The last interview we did was in 1998 and here we are ten years later. What do you know now that you didn't know ten years ago?
Frank: Well the biggest thing to happen in that decade is the opening of the Hobby Center. What I didn't know is that it was going to be that difficult. It ended up costing a hundred million dollars.
Theresa: (gasp) At the time you told me it was going to cost $75 million. You said it was going to be a $75 million building.
Frank: That's right! And it ended up costing a hundred million and we raised all the money and we had no idea it was going to be that successful and spectacular because we had to re-conceive everything we do.
Theresa: What was the extra cost?
Frank: It's just different spaces. We suddenly had our own rehearsal halls, our own office spaces. We were in little niches, we had to go rent spaces to rehearse our musicals and now we have all that in-house and the theatre was designed and built to foresee 50 years ahead what musicals and other users of the building could utilize. This is one of the largest stages in America done for Musicals second only to the Music Center in Los Angeles and Lincoln Center. You know, the scenery opens up, the curtains fly in one at a time we have a hundred pipes that are rigged so I can have a hundred different curtains at a single time that could be in the building. We can accommodate two hundred people in dressing rooms. We have our wardrobe, washers and dryers, and we have 2 theatres! We never had that smaller 500-seat theatre anywhere where we rented buildings around town. It's a dream come true but it was twenty years in the planning stages and then you always find new gremlins when you get into this.
Theresa: What have you learned in the last 10 years?
Frank: We have learned how to better serve the Houston market in terms of programming and being in the Hobby Center, many more people came who knew people but have never experienced us. They came because of all the hoopla surrounding this glamorous facility and that they didn't want to go to the old Musical Hall. They certainly didn't want to go out to the Round at Sharpstown so it brought out a whole new group of people that have never come here before. So we started studying their demographics and it's interesting…the other one thing we always try to do is a lost or forgotten musical or the world premiere of a new musical. And we know those do not necessarily sell as well as Hello Dolly or The Color Purple but our mission is to forward the musical theatre art form. So we will do 110 In the Shade which is written by Houstonians because it's that piece that needs to be seen. And that production we did, worked. We did new things to it which then went into New York, which is just a Broadway revival. A lot of the new materials and our orchestrations were put into the Broadway show.
Theresa: As Producing Artistic Director of TUTS what are you responsibilities?
Frank: I'm responsible for everything that's on the stage which means when it's great I get raves and when it's bad I'm the one that's responsible. We're just human beings out there so some shows are just going to be better than others just like the movies. But I spend all of my time planning a year or two ahead and I'm collaborating with theatres all over the country. I'm collaborating with Broadway producers, "Oh you have that opening next year? Well let me start that in Houston." like we did Disney's Beauty and the Beast. Let's try it out here and then it can go to New York. And Andrew Lloyd Webber's show this year Whistle Down The Wind, he called us and asked us personally to mount it. And it's now on a national tour.
Theresa: Wow. How much did you contribute in choosing the new season?
Frank: John Breckenridge is our president and I and our marketing director David Greiss and our artistic staff we all sit down and say "Here are all the options. These are the shows that Seattle and other theatres want us to show this year, here's what Broadway's asking us to please book. So we try to balance the season. But it's done with everyone's participation – marketing and everybody participates.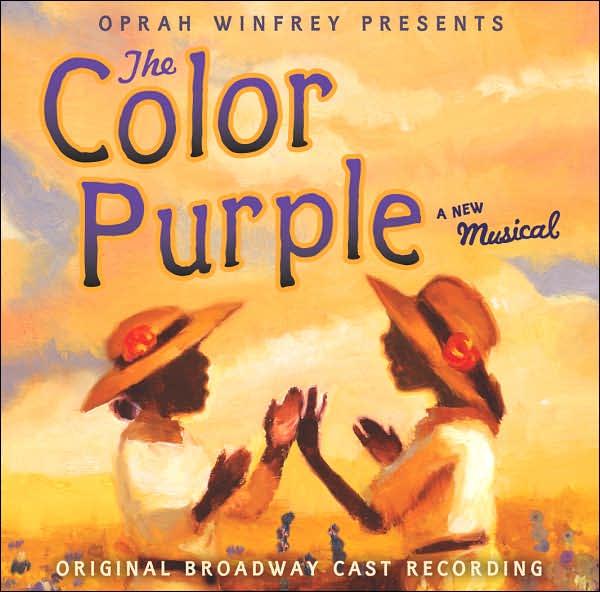 Theresa: What are the goals for the future of TUTS?
Frank: I wanna see TUTS continue to stabilize. It's not only the level of quality of the shows. Our goal is also to get out into the national market place, carrying the banner of TUTS around the country and we make money and profits so we can bring back to Houston and under-write our education and outreach and to give back to the citizens of Houston. We're also looking to start new shows, originals.
Our personal goals within the company and the board are to stabilize our financial position in the community. We're the only major arts group that does not have an endowment so that is fixing to be announced. We're gonna start a major endowment campaign. The last 3 years here at the Hobby Center have been the biggest financial successes of any 3 years in our history. So we're on a definite roll and we want to put that money toward scholarship programs and we're increasing our educational outreach. We now have the largest one in the city and last year as the Texas Commission on the Arts we were ranked number one for Education and Outreach across all disciplines. We have a perfect score of 100.
Theresa: And now for my final question. Since it's an election year, who do you think will become the next president?
Frank: Well, on the day we taped this interview, our 2 democratic candidates (Hillary and Obama) are running neck and neck and I have no idea who's going to be our nominee there. I'm sorry but I have to be apolitical. I'm going to vote for the one who's gonna come out most in favor of the arts. Because it is tragic, the national endowment keeps cutting back. They just did their annual on site - it's for a Christmas show. And the man said, "I have sad news but this will be the last on site ever." The idiot has stopped going to do on sites. They're gonna give away what little government money there is without getting somebody to evaluate theatre's work. And that is just really criminal I think. And worse is the Texas Commission on the Arts, out of the 50 states and 2 territories Texas is the 52nd per capita in giving to the Arts. Guam is more per capita than Texas. It's shameful that our state doesn't value the arts through the Texas Commission on the Arts.
Theresa: After the interview, I sincerely thanked Frank Young for his time. As I am now typing up this interview, I have just seen the TUTS production of Hello Dolly with music and lyrics by Jerry Herman and it was fantabulous! Leslie Uggams did a grand dame performance and it was hilarious the way she interacted with the audience on every musical number. Especially the one big Hello Dolly scene where she sings and dances with the waiters at the Harmonia Gardens Restaurant and she steps down the enormous spiral staircase all lit up like a Christmas tree. It is a combination of fantastic and fabulous! It is over-the-top glamorous. I would even go as far as to say that it is better than Broadway because it's right here in my hometown of Houston, Texas.
Don't forget to attend the next two Theatre Under The Stars musicals The 25th Annual Putnam County Spelling Bee and The Drowsy Chaperone. Remember to check out the new 2008 – 2009 season and remember to always, always support the Arts.

(L-R) Robert Goulet and Ginni Mithoff at the Forever Young Gala April 27, 2007 TUTS' Annual Gala at the Hobby Center for the Performing Arts. Photo by PWL Studio.
THE IMPOSSIBLE DREAM
To dream the impossible dream
To fight the unbeatable foe
To bear with unbearable sorrow
To run where the brave dare not go
To right the unrightable wrong
To love pure and chaste from afar
To try when your arms are too weary
To reach the unreachable star
This is my quest
To follow that star
No matter how hopeless
No matter how far
To fight for the right
Without question or pause
To be willing to march into Hell
For a heavenly cause
And I know if I'll only be true
To this glorious quest
That my heart will lie peaceful and calm
When I'm laid to my rest
And the world will be better for this
That one man, scorned and covered with scars
Still strove with his last ounce of courage
To reach the unreachable star
-0-0-0-0-0-